【Report -Day 2】International Workshop was held.
Following the lecture on September 27, a school visit and a workshop with Okayama ESD Promotion
Council were held on Wednesday, September 28.
 First, we visited Okayama Municipal Korakukan Senior High School.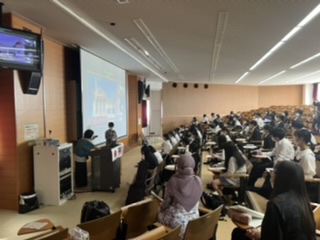 Thanks to the cooperation of many teachers, including Ms. Omori, the teacher in charge of
international exchange, Dr. Irina's high school son Zavier was accepted into the class. 1st and 2nd
period was a joint ESD and English class, and he participated in a workshop on the Convention on the
Rights of the Child. After a presentation on his school life in Malaysia and a Q&A session, he
participated in group activities. The high school students quickly became familiar with each other and
engaged in discussions in a friendly atmosphere.
 Later, they also connected online with the Malaysian school and asked each other questions about
their countries and high school life.
 In the afternoon, a workshop was held at Okayama City Workers Welfare Hall with members of
Okayama ESD Promotion Commission (SDGs and ESD Promotion Division, Okayama City Hall).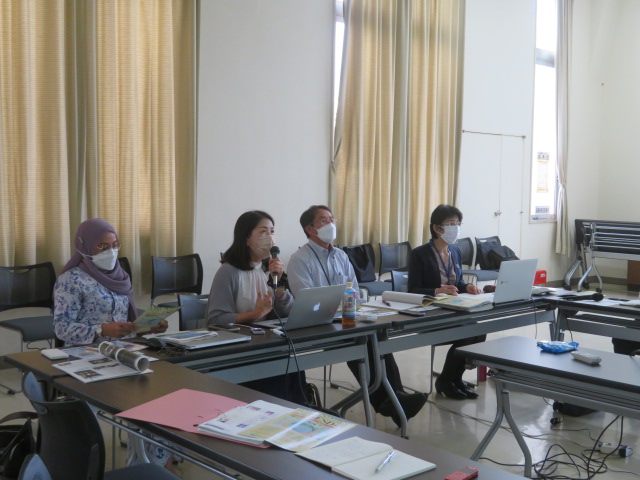 【Programme】
 1. 15:00 Greetings and introduction of lecturers: Shibakawa & Irina
 2. 15:15 The Iitiatives of Okayama ESD Project: Ms. Sachie Kumano, SDGs & ESD Promotion
Division
 3. 15:30 Activities of Okayama UNESCO School High School Network: Hiroko Shibakawa, ESD
Promotion Center
 4. 15:45 The Promotion and Policy of ESD and SDGs in Okayama after the World Conference –
Current Status and Issues : Mr. Motohisa Naito, Director, Kyoyama Community Learning
Centre(Kominkan)
 5. 16:00 Comments
 6. 16:15 Discussion
 7. 17:00 Closing
During the discussion, the participants discussed how the Okayama ESD Project is transforming
knowledge as a result of the project. Dr. Irina explained that what is considered "normal" in
Okayama City is very advanced from the Malaysian point of view. For example, children rarely go
out to the community to learn outside of school, they do not go into the river to observe living
creatures, and they do not clean the school, community, and river together. The seminar made me
rethink about the value of activities that we are (or have been) somehow promoting.
It is ESD and important for us to rethink the activities we take for granted and consider what they
mean for the formation of a sustainable society. No matter how highly regarded an initiative may
be, if we do not think about its meaning and value, it will disappear someday.
What will we leave behind and pass on to the next generation? And for what purpose? I feel that we
must cherish the "questions" that existed in the early days when ESD was first introduced in Okayama.